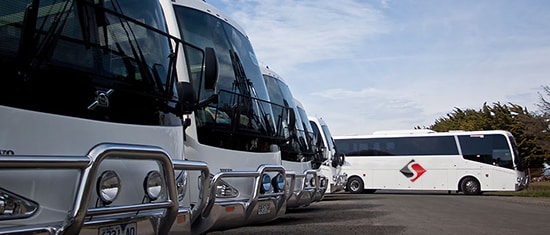 Coaches
Luxury Coaches are the perfect vehicle for large groups for all coach charter, coach hire with driver and coach tours in Sydney.
Sydney Bus Hire Company has the experience and knowledge to handle multi-coach movements for all corporate or social events or corporate transfers.
All Modern Conveniences
Seat Belts
Onboard Overhead Hand Luggage Storage
Undercarriage Luggage Storage
Large Panoramic Windows
Curtains
Tinted Windows
Personal Air-Conditioning
Heating
Personal Reading Lights
Onboard Microphone
Reclining Coach Seats
Radio
FAQ's
Q. Do you offer a self-drive service? Can we use our own driver?
A. Sorry, we only provide charter services with our drivers.
Q. Can we eat and drink on the coaches?
A. No, there is no food, drink or alcohol allowed to be consumed on the coach, water is acceptable.
Q. Is there room for standing passengers on the coaches?
A. No, all passengers in the coaches must be seated.
Q. What is the seating capacity of the coaches?
A. We have coaches for 34, 42, 46, 48 & 50 passengers?
Q. What is the day rate of the coaches?
A. Daily rates vary according to times and distances. A day in some minds is 8 hours and for others it's 12 or more hours.
Start times, destinations, finish times and coach size are all collected and costs are based on these factors.
Q. Do the coaches have microphones for the tour guide or group leader?
A. Yes, all coaches have working PA systems.
Q. Do you do bucks parties?
A. No, sorry.